Press
* "The Duke aka Rich Ward rips and his shit fuckin' slams. He can play like nobody's business and with his balls to the floor. Rich is one of the great player/songwriters of our time and he's good people as well." – Zakk Wylde (Black Label Society and Ozzy Osbourne band)
* "Rich Ward has crafted an excellent fusion of good, old-fashioned rock energy with modern riffs, melodic elements and dynamic arrangements. I don't think I've heard it all put together so well ever before. In short, IT ROCKS" – Wolf Hoffmann (ACCEPT)
* "This guy is great"! – Howard Stern
* "This album will surely establish Rich "The Duke" Ward as not only a guitar hero but also a brilliant singer and songwriter". – Blabbermouth.net
* "Ward owns every stage that he steps onto and is arguably one of the best performers in rock". – Metal Edge
* "The Duke's debut album, My Kung Fu Is Good, is simply an amazing mix of melody, music and heartfelt lyrics. This is a musical journey that everyone should bare witness to". – Powerplay
* "Evolution and growth that exceeds most of the rock acts currently cluttering the airwaves". – Billboard
* "The guy writes money tracks, with killer chorus' and hooks". – Dan Donegan (Disturbed)
Bravewords.com: FOZZY Guitarist Rich Ward Working On New Material – "My Gut Feeling Is That It Will Be The Best Overall Album That I Have Been A Part Of"
Posted on Friday, February 10, 2012 at 01:43:01 EST
Guitarist/vocalist Rich Ward (FOZZY, STUCK MOJO) has checked in with the following:"I haven't given a lot of Fozzy studio updates because I don't want my enthusiasm to be interpreted as big headed gum bumping. For those who are interested in our progress, let me just start with a quick update.
Chris (Jericho/vocals) wrote the bulk of the lyrics months ago, but he has given me updated lyrics as I have needed them, some as recently as last week. I have been working on rough song ideas for last few months, some basic song structures were recorded out on the road last fall with a portable studio set up in the back lounge of the bus, and other ideas more crudely captured by the recorder in my phone. So far all the songs written for the album have been recorded in a rough demo form. Drums have been programmed, scratch guitars have been recorded, and a lot of the vocals have been sketched out.
For the last few weeks our drummer Frank has been relentlessly rehearsing the new album material at our practice space in downtown Atlanta. Next week we officially move into the studio where we start tracking drums.
Midland Rocks: Interview with Rich Ward
Words by Liam Booth
Photos by Sarah Payman-Shaw
Bookmark and Share
As well as being treated to a live dose of Fozzy, this evening, we were also granted the privilege of having a brief chat with the band's resident Guitar Wizard and co-founding member, Rich Ward. Join us under the dim glow of the venue's backstage emergency lighting as we talk with Rich about the tour, personal heroes, new material and the benefits of extensive pre-gig stretching.
We find Rich backstage at Nottingham's Rock City, stretching away under the emergency lights (the main power is not on).
MR: Hey, Rich – what's with the stretching?
RW: Hey, guys! Well, you know, all it takes is one pulled Achilles tendon or a hurt knee and the tour's done! So it's not a case of "Do I wanna be an athlete?", but it's more like: I can only play if I can stand upright! If you wanna perform at a certain level, then you have to be prepared to do what it takes to achieve that. I lift some weights, but it's more about the cardio… the "fitness", I guess. We've done plenty of shows and I've been lucky enough to get to know Bruce Dickinson over the years and he stretches for an hour before he goes on!
So, what's going on with you guys, today?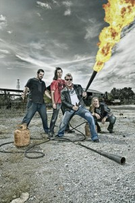 Fozzy To Re-Release Latest Album, "Chasing The Grail"
Source: http://www.metalunderground.com
Fozzy, the band featuring Stuck Mojo guitarist/vocalist Rich Ward and World Wrestling Entertainment star Chris Jericho, has announced that they will be re-releasing their latest studio album, "Chasing The Grail" on July 1st as part of a two disc set which will also include the live album, "Remains Alive." The live record was previously limited to five hundred copies and was only available as part of an expensive fan package.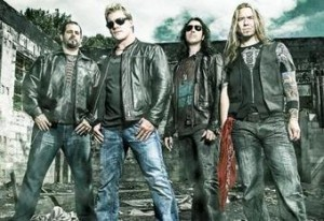 Fozzy is back and better than ever!
Source: http://bleacherreport.com 1/10/10
If you herd the theme song for this year's Royal Rumble, you'd know it's a new track from Fozzy's new cd "Chasing the Grail". The band consists of Chris Jericho as the lead singer, Rich Ward as the lead guitarist, Frank Frontsere as the drummer, and finally Sean Delson as the bassist. Despite my feelings for Chris Jericho and his foolish choice as a self absorbed, hypocritical, looser, who lost to DX 3 times now! He has an awesome band and a great set of pipes. When it comes to metal bands, Fozzy hasn't lost their touch.
MetalRage.com: Stuck Mojo – "Southern Born Killers"
Somewhere in the beginning of the nineties when grunge was mainstream and heavy metal was not done, a band was formed and started to create a completely new style of crossover music. With the release of Snappin Necks Stuck Mojo became a phenomenon for some and a riddle to others. With the right in your face attitude and brutal songs they smacked you right in the face. Sadly enough Stuck Mojo disbanded in 2000 due to label problems.
Five years later I was able to see them live when they embarked on a 17 date tour across Europe. It was great to finally hear songs like 'Rising', 'Snappin Necks' and 'Southern Pride' live. Now, several years later the new album of Stuck Mojo called Southern Born Killers is released after the band first had posted it online.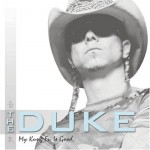 Blistering.com: The Duke – "My Kung Fu Is Good"
When guitarist Rich Ward's long time rap/metal outfit Stuck Mojo finally disbanded, he took a left turn creatively. Where his past musical offerings had leaned heavily to the harder side of music, his new solo album – The Duke's My Kung Fu Is Good – is experimentation in melody, piano, pop and big rocks riffs.
Ward's signature guitar sound and songwriting abilities are put to the test with this release and they all pass with flying colors. Ward's knack for creating powerful pop hooks will captivate then attention of even the harshest of critics. His signature riffing is present here, combined with a new sense of melody that his previous songwriting lacked, elevating this material to new highs.