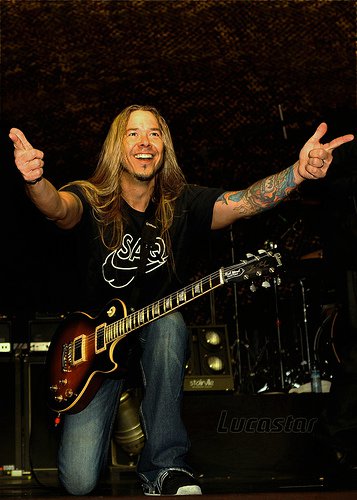 Rich Ward is highly sought after as a producer by artists all over the world because of his unbelievable ability to capture HUGE sounds in the studio.
Well-known for his notoriously gigantic guitar tone, Rich has produced all of Fozzy's records, as well as many other artists.
Rich is also praised for his ability to not only write massive guitar riffs, but to also incorporate melody, hooks and memorable choruses into his songs. The Duke knows how to write a hit.
Interested in hiring The Duke to produce your next project?
Contact Us for more info!
Legendary Guitarist Rich Ward Produces Debut Ep For Tafel Recording Artist Chuck Dunn

Legendary guitarist Rich "The Duke" Ward has produced the new EP for Tafel Recording artist Chuck Dunn. Ward's background as the thrashing guitarist for bands Stuck Mojo and Fozzy (featuring Chris Jericho), was the perfect fit as producer for Chuck and his unique music style. When Wardmet Dunn for the first time,he immediately recognized his natural ability and the opportunity to produce Chuck's music.
Considered one of the hottest up and coming rockers to come out of the Atlanta Rock scene, 23 year old Dunn's undeniable knack for writing with un-abandoned intensity provided a visual backdrop of struggle and breakthrough for his songs. Chuck's experience as a US Marine stationed in Iraq helped paint a picture of vivid and thought provoking imagery of a dark and desolate atmospheric battlefield.
Chuck and his band soon found themselves at Virtuo Studios in Atlanta, GA, with Rich Ward at the helm of production. They set out to collectively capture the dynamic melodies and razor-sharp grooves of the songs. The result is a 5 song EP which captures Chucks melodic vocals and searing guitar licks, reminiscent of his music influences of Metallica, Zakk Wylde, Audioslave, and Ben Harper.